Willkommen bei NEVER TOUCHING GROUND
dem Kennel und Logbuch meiner working flatcoats Almanza Poetry In Motion 'Julia', Almanza Never Touch Ground 'Johanna' und 'Solveigh' Never Touching Ground
Am 5. Februar 2010 haben wir Julia in Eskilstuna (Schweden) bei Ragnhild Ulin abgeholt und sind mit ihr in die Schweiz geflogen. Julia wurde am 7. Dezember 2009 geboren, zusammen mit 8 Geschwistern, von welchen ebenfalls die meisten in die grosse weite Welt ausgeflogen und quer über Europa verteilt sind.
Julia ist mein erster Hund und mit ihr hatte ich mir einen grossen Lebenstraum erfüllt. Wir hatten lange nach einem passenden Flatcoat gesucht und haben Julia in Schweden gefunden. Julia ist eine ausgeglichene, vertraute Hündin mit einem wunderbaren Charakter und hervorragenden Retrieverqualitäten. Nach einem vielseitigen Aufbau, u.a. auch in der Lawinen- und Wasserrettung, führte ich Julia überwiegend jagdlich. Die Retrieverarbeit (jagdliches Apportieren) liegt ihr sehr und während vielen Jahren haben wir mit viel Passion in schönen Geländen trainiert, gingen während der Saison auf Picking-up und sind an vielen Workingtests, Trials und jagdlichen Prüfungen gestartet.
Mit nun bald 10 Jahren und nach ihren vielen unermüdlichen Einsätzen, darf sie noch überall dabei sein und einfach geniessen. Mit ihrem "flat'terhaften" Wesen und grossen Lebensfreude zaubert sie uns jeden Tag ein Lächeln in's Herz.
Nachdem Julia einen sehr guten Trainingsstand erreicht hatte und ich mit ihr vieles erleben und einige Erfolge feiern durfte, habe ich mich dazu entschlossen eine zweite Hündin dazu zunehmen.
Nach unserem Besuch bei Ragnhild in Schweden im  Sommer 2015, war ich mir sicher, dass ich mein Glück erneut mit einer Almanza-Hündin versuchen möchte. Johanna stammt aus der Verpaarung mit Vegas – einem jungen Rüden mit vielversprechenden Arbeitsqualitäten – und Zelda – einer Enkelin von Puzzle. Wir sind nach Schweden geflogen und haben Johanna am 24. Mai 2016 bei Ragnhild abgeholt.
Mittlerweile hat sich Johanna zu einer tollen Hündin entwickelt mit bemerkenswertem Charakter und unglaublich viel Charme. Sie bringt alle Eigenschaften mit, welche man von einem Retriever erwarten darf – bei der Arbeit wie auch im Alltag. Sie ist schnell, sehr führig, hat ein gutes 'Lining', gutes Temperament und ist einfach zu trainieren – es macht extrem viel Spass mit ihr zu arbeiten und an 'Competitions' zu starten. Ihre Arbeitsqualitäten überzeugen mich so sehr, dass ich mich dazu entschlossen habe, mit ihr einen Wurf im 2021 zu planen.
Ich danke Ragnhild für die beiden wunderbaren Hündinnen aus ihrer langjährigen Zucht Almanza.
[im Juli 2019, Sven Bosshard]

Julia
FTCH Almanza Poetry In Motion
Dame
JWW-03 WW-08 NO V-06 FI V-08 INT&NORD UCH VWW-11
Almanza Jigsaw Puzzle 'Puzzle'
Sir:
Moonstruck Lucky Guess 'Marco'
07.12.2009 – 10.08.2022
Johanna
FTA Almanza Never Touch Ground
Dame
UA CH SE U(U)CH NO UCH FI UCH NO V-16 FI V-16
Almanza Strike Of Luck 'Zelda'
Sir
Engsboda People Cheer When I Appear 'Vegas'
*24.03.2016
HD B/B, ED 0/0, PL 0/0, HC/PRA/RD-neg., Gonio.-neg.
Formwert bestanden ohne Auflagen, Zuchtzulassung erteilt am 01.07.2019
Solveigh
Never Touching Ground
Dame
FTA
Almanza Never Touch Ground 'Johanna'
Sir:
NO UCH
Rudskog's Freaky Like Me 'Birger'
*31.03.2021
HD A/A, ED 0/0, PL 0/0, HC/PRA/RD-neg., Gonio.-neg.

Der erste Wurf unter meinem Kennelnamen '… Never Touching Ground' fiel im Frühling 2021 – der nächste Wurf ist nicht vor 2025 geplant.
Mein Zuchtziel ist es, gesunde Flatcoated Retriever zu züchten mit einem harmonischen Exterieur, welche durch ihre wesenssichere Art und ihre Retrieverqualitäten überzeugen. Dabei achte ich insbesondere auf gutes Temperament, ein hohes Mass an 'will to please' (ohne Selbständigkeit zu verlieren), einen klaren Verstand und Style – für mich eine Mischung aus Initiative, Ausdruck, fliessender Bewegung und 'game finding ability'.
Um den Welpen einen optimalen Start ins Leben zu ermöglichen, erleben sie allerhand in ihren ersten Lebenswochen – drinnen, im Aussenbereich, auf kleinen Ausflügen – mit der Absicht, dass sie eine gute Sozialisierung erfahren und gut vorbereitet sind. Ich werde Welpen nur an sehr gut ausgewählte Plätze vergeben, bei welchen sie ihren Anlagen entsprechend sinnvoll beschäftig und mit ihnen gearbeitet wird (Retrieverarbeit, Jagd, Hundesport, Rettungswesen). Selbstverständlich stehe ich meinen Welpenkäufern mit Rat und Tat zur Seite und helfe ihnen bei der Ausbildung der neuen Familienmitglieder. Interessenten informieren sich bitte eingehend über die Rasse, ihren Ursprung, ihre Bestimmung und melden sich bitte frühzeitig per Mail.
[im Juli 2021, Sven Bosshard]
D             |             E
The first litter under my kennel '… Never Touching Ground' was done in spring 2021 – the next litter is not planned before 2025.
My aim is to breed eager and equally healthy flatcoated retriever with harmonic exterior lines, which convince through their natural confidence and their retriever qualities. In particular my focus is on good temperament, on a high degree of will to please (without losing independence), a lucid mind and style – which for me is a mixture of  initiative, expression, fluid movement and game finding ability.
To give the puppies a good start into life, they experience quite a lot during their first weeks – inside, in the outdoor area, during some little excursions – with the aim to facilitate good socializing and prepare them well. I give puppies to very well chosen places only, where they will be occupied in a sensible way according to their natural tendencies and where people work with them (retriever work, hunting, sports, rescue). Of course I will support my puppy buyers with words and deeds and I will help them to educate their new family member accordingly. If you are interested, please inform yourself about the breed, the origin, the purpose and get it contact with me by mail early.
[in July 2021, Sven Bosshard]
D             |             E
Never Touching Ground
Litter #1, *31.03.2021
Dame
FTA
Almanza Never Touch Ground 'Johanna'
HD B/B, ED 0/0, PL 0/0, HC/PRA/RD-neg., Gonio.-neg. b. Zz.
Sir
NO UCH
Rudskog's Freaky Like Me 'Birger'
HD A/A, HC/PRA/RD-neg.

Photo Credit: Yasmina Zuberbühler

Retrievertraining
Workingtest and Field Trial
Ich startete mit der Retriverarbeit vor über 10 Jahren mit meiner ersten Flatcoated-Hündin, welche ich von Schweden in die Schweiz importierte. In den darauf folgenden Jahren wurde ich immer tiefer an die jagdliche Retrieverarbeit herangetragen und aus einer anfänglichen Neugier wurde Leidenschaft.  Ich war voller Entdeckerfreude und wollte diese Arbeit von Grund auf kennen lernen. Ich reiste mehrere Male für Trainings nach England (z.B. zu Jamie Bettinson) und für die Teilnahme an Workingtests und Field Trials nach Schweden, Frankreich, Italien und einige weitere Länder. Ich habe an weit über 200 Wettbewerben teilgenommen und viele Eindrücke und Erfahrungen gesammelt. Ich habe einige Prüfungen gewonnen und so wurde meine Hündin im Alter von 5 Jahren Field Trial Champion in Italien. In Frankreich konnte sie sich ebenfalls für den FTCH-Titel qualifizieren. Zu den weiteren Höhepunkten zählen der 1. Price in einem herausfordernden Cold Game Test in Schweden, als sie 2 Jahre alt war, die Qualifizierung und Teilnahme am Internationalen Worktingtest in Belgien im Jahr 2015 und im Jahr 2017 startete ich zum ersten Mal als Captain mit meinem Team am Windsor Charity Gundog Team Test. Im Jahr 2015 wurde meine Hündin FTCH Almanza Poetry in Motion zudem als zweitbester Open Dog (Swiss Trophy) ausgezeichnet.
Mit meiner zweiten, jüngeren Hündin Almanza Never Touch Ground konnte ich ebenfalls bereits einige Erfolge an Field Trials, Mock Trials und Workingtests in der Open-Klasse erzielen. Mit 3 Jahren startete ich mit ihr u.a. an drei grossen Events, dem Internationalen Workingtest in den Niederlande, dem Brahetrolleborg Profine Nations Cup in Dänemark und am Flatmästerskapet in Schweden. Im selben Jahr qualifizierten wir uns zudem für den Coupe de France.
Ich biete individuell abgestimmtes Retrievertraining als One-to-one-Sessions oder in Kleingruppen als Vorbereitung für Workingtests, Field Trials oder den Jagdeinsatz. Auf Wunsch und in Absprache kann ich Ihren Retriever auch autonom ausbilden. In Småland, Schweden stehen mir unglaublich schöne und anspruchsvolle Trainingsgelände u.a. mit vielen Seen zur Verfügung – ich verbringe einen Teil des Jahres da, organisierte Trainingcamps bieten sich an.
[im September 2021, Sven Bosshard]
D             |             E
I startet doing retriever work over 10 years ago when I have imported my first flatcoated retriever bitch from Sweden to Switzerland. In the following years I was tied up into gundog work very intensively and became passionated. I was eager to learn, went to the UK several times for training days (e.g. with Jamie Bettinson) and traveled to compete in field trials and workingtests to Sweden, France, Italy and some other countries. I participated in over 200 competitions and collected many impressions. I have won a couple of competitions and made my flatcoat up to a Field Trial Champion in Italy when she was 5 years old – and also in France she has qualified for the FTCH title. Some other highlights were the 1st price at a challenging cold game test in Sweden when she was only 2 years old, the qualification and participation at the International Workgintest in Belgium in 2015 and in 2017 I led my team as captain for the first time at the Windsor Charity Gundog Test. Furthermore my bitch FTCH Almanza Poetry In Motion was ranked as 2nd best open gundog in Switzerland in 2015 (Swiss Trophy).
With my second, younger bitch Almanza Never Touch Ground I was able to succeed at some field trials, mock trials and workingtests in open class as well. When she was 3 years old I competed with her i.a. at three big events, at the International Workingtest in the Netherlands, at the Brahetrolleborg Profine Nations Cup in Denmark and at the Flatmastership in Sweden. In the same year she was qualified for the French Championship.
I offer individually balanced retriever training as one-to-one-sessions or in small groups as preparation for workingtests, field trials or for hunting use. On demand and agreement I can educate your retriever autonomously. In Småland, Sweden I have stunning and challenging training grounds available i.a. with lots of water – I spend a part of the year there and it is easy to organize training camps.
[in September 2021, Sven Bosshard]
D             |             E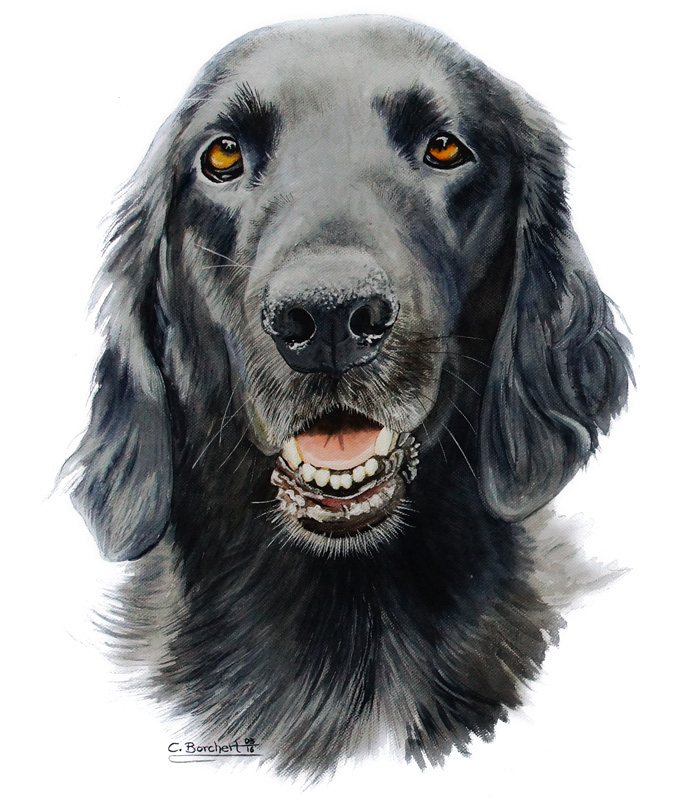 Successes Retriever Work
FTCH Almanza Poetry In Motion
WORKINGTEST NOVICE:
excellent (4th place, Workingtest Silvaplana '11 – Winner of Banner's Memorial Charity X-mas Trial '11 – 4th place, Lakeland-Trophy '12)
WORKINGTEST INTERMEDIATE:
excellent (6th place, Workingtest Oberwald '12 – 10th place, Swiss Classic Workingtest S-chanf '12 – 5th place, Workingtest Silvaplana '12 – 6th place team score, Lakeland-Trophy '13 – 4th place, WRCI Cup Niviano di Rivergaro IT '13 – 4th place, Swiss Classic Workingtest S-chanf '13 – 8th place, Workingtest Silvaplana '13 – 4th place, final score Swiss Trophy '13 – 6th place, Workingtest Gattico IT '14 – 3rd place, Workingtest Werdenberg '14 – Winner of Worktingtest Como IT '14 – 3rd place, Workingtest Work&Show Aarau '14 – Winner of Worktingtest Combrimont FR '14)
WORKINGTEST OPEN:
very well done (2nd place, Coppa Reale Racconigi IT '14 – 4th place, Workingtest Oberwald '14 – 6th place, Workingtest Mountain-Trial '14 – 9th place, Workingtest Silvaplana '14 – 9th place, final score Swiss Trophy '14 – 2nd place and best female flatcoated retriever, Trofeo Masserano Memorial Workingtest IT '15 – 5th place, Workingtest Werdenberg '15 – 7th place, Workingtest Gattico IT '15 – 3rd place, Workingtest Xirocourt FR '15 – 7th/8th place, WRCI Cup Parma IT '15 – 6th place, Workingtest Oberwald '15 – 7th place, Workingtest Malbun '15 – 9th place, Jubilee Workingtest Aarau '15 – 3rd place, Workingtest Silvaplana '15 – Winner of Workingtest Asciano IT '15 – 2nd place, Workingtest Heart of Switzerland Lucerne '15 – 3rd place, final score Swiss Trophy '15 – 4th place and best female flatcoated retriever, Trofeo Masserano IT '16 – 4th place, Workingtest Ghemme/IT '16 – International Workingtest for Retrievers, BE '16 – Windsor Charity Gundog Team Test, UK '17 – 7th/5th place, Workingtest Lac de Narlay FR '17 – 3rd place, Swiss Classic Workingtest S-chanf '17 – 9th/8th place, Workingtest Oberwald '17 – 4th/5th place, Workingtest Silvaplana '17 – 2nd place, final score Alpine Trophy '17 – 4th place, FCR-Trophy Work&Show Harburg/Germany '17 – 7th place, final score Swiss Trophy '17 – 4th place, Swiss Classic Workingtest S-chanf '18)
MOCK TRIAL NOVICE:
excellent (3rd place, Mock Trial Sizzano IT '13 – Winner of Mock Trial Gattico IT '14)
MOCK TRIAL OPEN:
excellent (2nd place, Mock Trial Gattico IT '15) – well done (T.C. Memorial Mock Trial Molinella IT '16) – well done (Swiss Classic Mock Trial S-chanf '17) – very well done (2nd place, Mock Trial Vinon-sur-Verdon FR '18)
COLD GAME TEST C-CLASS:
very well done (5th place, Cold Game Test Zurzach '12)
B-PROV NOVICE:
1st price (Cold Game Test Sweden '12)
FIELD TRIAL À LA FRANÇAISE:
very well done (Field Trial Erstein FR '13) – excellent with CACT* (Winner of Field Trial St-Benoit FR '14) – very well done (3rd place, Field Trial St-Benoit FR '14)
FIELD TRIAL À L'ANGLAISE:
excellent (5th place, Field Trial Lezey FR '14) – excellent (4th place, Field Trial Lezey FR '14) – excellent with RCACT* (2nd place, Field Trial Coullons/Sologne FR '14) – excellent with RCACT* (2nd place, Field Trial Lezey FR '15) – excellent (4th place, Field Trial Lezey FR '15) – very well done (3rd place, Field Trial St-Benoit FR '15) – very well done (Field Trial Haguenau FR '15 – very well done (Field Trial La Pomarède FR '16 – very well done (Field Trial Haguenau FR '16) – excellent with CACT* (Winner of Field Trial Haguenau FR '17) – excellent (3rd place, Field Trial Chaintreaux FR '17) – excellent with RCACT* (2nd place, Field Trial Confrançon FR '17)
FIELD TRIAL NOVICE:
excellent with CAC* (Winner of Field Trial Parma IT '14)
FIELD TRIAL OPEN:
very well done (Field Trial Capolona IT '14) – excellent with CAC* (Winner of Field Trial Masserano IT '15)
FIELD TRIAL INTERNATIONAL:
well done (5th place, Field Trial Aggius/Sardegna IT '17) – very well done (4th place, Field Trial Aggius/Sardegna IT '17)
CERTIFICATES & TITLES:
FTW, Italian Field Trial Winner (IT '14, homologated)
FTCH, Italian Field Trial Champion (IT '15, homologated)
FTa, Trialer à l'Anglaise (FR '14, non-homologated)
CHTa, Champion de Travail à l'Anglaise (FR '15, non-homologated)
Certificate of Competence (Field Trial Training Day of South Eastern Gundog Society, Ulcombe/Kent UK '14)
Winner of the Flatcoat Challenge Trophy (best Working Flatcoated Retriever of Switzerland '17/18)
(* (R)CAC/CACT = (Reserve) Certificat d'Aptitude au Championnat de Travail)
Successes Retriever Work
FTA Almanza Never Touch Ground
WORKINGTEST BEGINNERS:
very well done (9/7th place, Workingtest Silvaplana '17 – Best Retriever in Work&Show, Sardegna/IT '17)
WORKINGTEST NOVICE:
excellent (6th place, Workingtest Werdenberg '18 – 8/6th place, Swiss Classic Workingtest S-chanf '18 – 5th place, Workingtest Narlay/FR '18 – Winner of Workingtest (Game Fair), La Motte Beuvron/FR '18 – 2nd place, Workingtest Silvaplana '18)
WORKINGTEST OPEN:
excellent (Windsor Charity Gundog Team Test, UK '18 – 10th place, Workingtest Silvaplana '18 – 6th place, Workingtest Heart of Switzerland Lucerne '18 – International Workingtest for Retrievers, NL '19 – Brahetrolleborg Profine Nations Cup, DK '19 – Flatmästerskapet, SE '19 – 2nd place, Workingtest Silvaplana '19 – 4th place, Workingtest Isola Serafini IT '20 – Winner of the FCRS Midland Area Workingtest with Judges' Choice, Harvingtom UK '22)
MOCK TRIAL NOVICE:
excellent (Winner of Mock Trial S-chanf '17 – Winner of Mock Trial Vinon-sur-Verdon/FR '18)
MOCK TRIAL OPEN:
very well done (Winner of Mock Trial Vinon-sur-Verdon/FR '18)
FIELD TRIAL À LA FRANÇAISE:
excellent with RCACT* (2nd place, Field Trial Erstein FR '18) – excellent (3rd place, Field Trial Erstein FR '18) – very well done (2nd place, Field Trial Chaintreaux FR '18) – excellent (Field Trial Chaintreaux FR '18) – excellent (Winner of Field Trial St-Benoit FR '18) – very well done (Field Trial Confrançon FR '18) – excellent (3rd place, Field Trial Kienheim FR '19) – excellent with CACT* (Winner of Field Trial Lailly FR '19) – very well done (Field Trial Kienheim FR '20) – excellent (2nd place, Field Trial Chaintreaux FR '20) – excellent with CACT* (Winner of Field Trial Chaintreaux FR '20)
FIELD TRIAL À L'ANGLAISE:
excellent (Field Trial Vinon-sur-Verdon FR '21)
FIELD TRIAL OPEN:
very well done (2nd place, Field Trial Cressa IT '20)
CERTIFICATES & TITLES:
FTf, Trialer à la Française (FR '18, non-homologated)
CHTf, Field Trial Champion à la Française (FR '21, homologated)
Winner of the Pallingforth Trophy (UK '22)
(* (R)CAC/CACT = (Reserve) Certificat d'Aptitude au Championnat de Travail)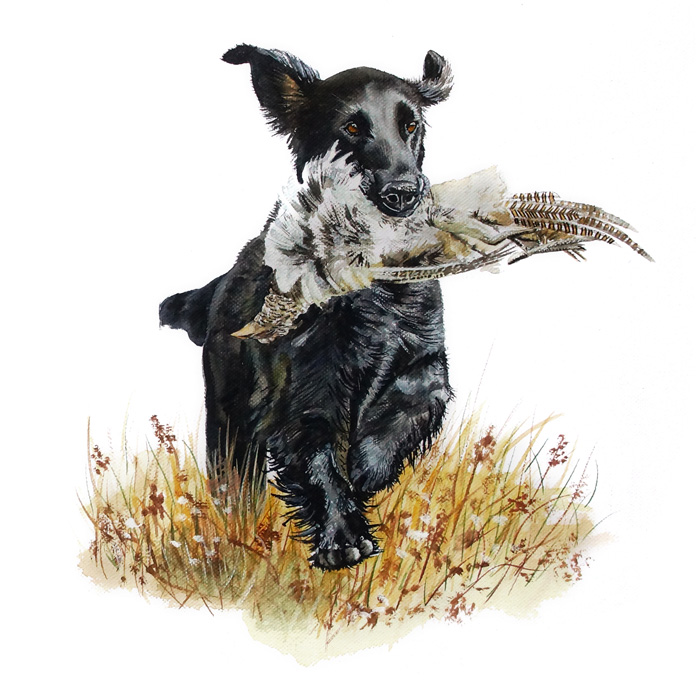 Gallery
Nachfolgend eine Auswahl an erinnerungsreichen Bildern, die über die Jahre hinweg entstanden sind:
I remember a situation on a sunny training day on a nice Mediterranean wavy ground in Tuscany,
when I sent Julia for a retrieve, someone said to me:
"She looks like she would float over the field
and never touch ground."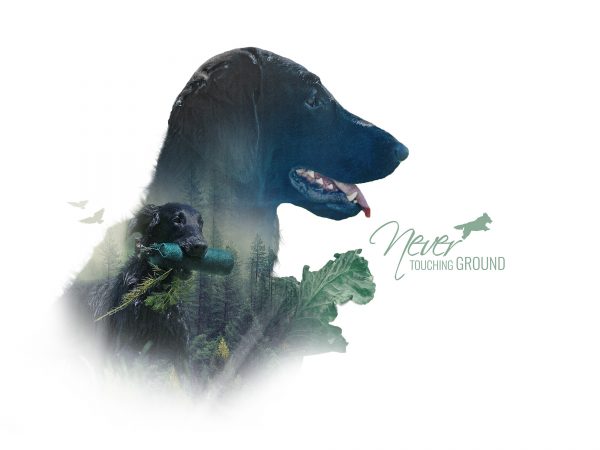 Flatcoated Retriever Zucht FCI/SKG/RCS, Arbeitslinie und Showlinie, Gundog Ausbildung/Training Retrieverarbeit (Workingtest und Field Trial) – Aargau, Schweiz / Småland, JKPG, Schweden
Flatcoated Retriever kennel FCI/SKG/RCS, working line and show line, gundog education/training retriever work (working test and field trial) – AG, Switzerland / Småland, Jönköping, Sweden